Waterproofing Services in Melbourne
For quality waterproofing services in the northern suburbs and other areas of Melbourne, make LF Waterproofing your first choice. Whether you need laundry waterproofing in Footscray or bathroom waterproofing in Keilor East, our team can provide the assistance you need.
Indoor & Outdoor Waterproofing in the Western Suburbs & Beyond
We can complete both interior and exterior waterproofing jobs for your residential property, meaning we can also help you with rooftop waterproofing in Tullamarine and beyond. While we specialise in bathroom waterproofing in Melbourne, we can carry out many other indoor and outdoor waterproofing jobs.
Certified Tradespeople Based in Keilor East
Based in Keilor East, our team can travel anywhere in Melbourne within a two hour radius. Our tradespeople all have a Cert III in construction waterproofing, meaning they know exactly what they're doing when they're treating your home. Our waterproofing services in Melbourne include: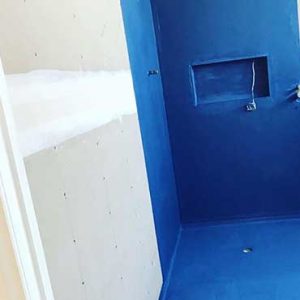 Bathroom waterproofing
Rooftop Waterproofing
Laundry Waterproofing
Balcony Waterproofing
Basement Waterproofing
Domestic Waterproofing
Commercial Waterproofing
What is Waterproofing?
Waterproofing is the process of stopping water from getting inside a building and causing structural damage. Coatings provide protection against water-related insect infestations, mould and building failures. A waterproofed building can withstand unpredictable Melbourne weather conditions and keep structural elements such as the floors, walls and ceilings intact for years to come.
What Does Waterproofing Cost?
For an average sized bathroom, you could pay anywhere between $500 and $1000. But the quote will vary according to a few factors, such as if the waterproofing is done in more than one bathroom, if the bathroom is large, or if the bathroom is on the second floor of the house. Rather than choosing a waterproofing contractor based on price, the best option is to look for a reputable company, as waterproofing done right can save you a lot of time and money down the track.
How Do I Find the Right Waterproofing Contractor in Melbourne?
Finding the right waterproofing contractor in Melbourne is reasonably straightforward. You can narrow down the options by reading reviews online, asking friends or family for recommendations, assessing their experience and accreditations, comparing the costs, and finding out whether they've won any awards for their services.
Organise Quality Bathroom Waterproofing Today
Next time you need affordable building waterproofing services in Melbourne, don't look past LF Waterproofing. We've got the knowledge and qualifications to do the job correctly the first time. We pride ourselves on a job well done, plus all our jobs come with a certificate of compliance to Australian Standards. To learn more or make a booking, call us on 0406 268 119.